The UU Society of Oneonta has two buildings available for rental:
When the chairs are placed along the edge, the space can be used for such activities as Zen meditation, yoga, gentle exercise, music and games with children (or without them).
Available banquet tables can be set up in the sanctuary for food and fellowship.  There is a dishwasher and plenty of surface space for food preparation in the kitchen.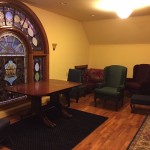 Accessibility:  We have a wheelchair ramp, an accessible bathroom, a hearing­-assist loop as well as individual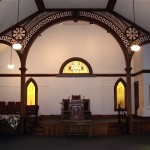 headphones for those who need them.  A screen, projection device, and microphones are available for presentations.
Acoustics:  The space is acoustically appropriate for musical and theatrical performances.  The grand piano is admired by all who play it.
Free parking is conveniently located just across the street.
2. Olympia Brown House, 16 Ford Avenue, was built in the early 1900's as a family home.  The living room is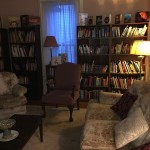 comfortable for small meetings and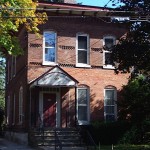 good conversation.  The dining room offers seating for 12 around the table and the kitchen is very large.  The backyard has had many good-weather birthday celebrations.  Childcare rooms are located upstairs.  A wheelchair ramp to the kitchen door is located off the driveway.
We welcome your inquires and will work hard to accommodate your needs.  See our rental rates, policies and procedures: Building Use