ALL ARE WELCOME HERE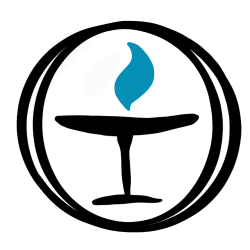 The Unitarian Universalist Society of Oneonta is a welcoming community, nurturing spirit and working for a just and sustainable world. The Society strives to provide a visible, positive place for the greater community to gather in love and acceptance. Without dogma or doctrine, the congregation welcomes all to challenge, question, and explore as all grow in spirit. Because beloved community is inclusive, we champion those who have been historically excluded, and we fulfill our responsibility to the interdependent web of life.
---
Upcoming Services
Masks are optional all in-person events.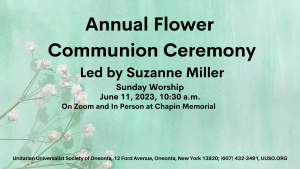 Sunday, June 11, 2023
"Annual Flower Communion Ceremony"
Led by Suzanne Miller
This year marks the 100th year of the UU Flower Communion celebrated each June by UU congregations around the world. This ritual, started by Unitarian minister Norbert Čapek in Czechoslovakia, celebrates beauty, diversity, and community. For this ceremony, people in the congregation bring a flower to place on the chancel table in common vases. Since not all folks have access to flowers to contribute, those of you with flowers in your yard are asked to bring a bunch, so there will be flowers for everyone for this ritual. At the end of the service, each person will have a flower to take home.
Click Here for the Order of Service
Upcoming Events
This Week at UUSO
Please see the UUSO calendar for current events!