ALL ARE WELCOME HERE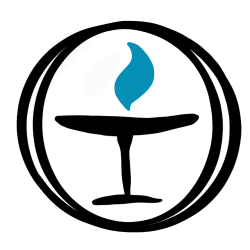 The Unitarian Universalist Society of Oneonta is a welcoming community, nurturing spirit and working for a just and sustainable world. The Society strives to provide a visible, positive place for the greater community to gather in love and acceptance. Without dogma or doctrine, the congregation welcomes all to challenge, question, and explore as all grow in spirit. Because beloved community is inclusive, we champion those who have been historically excluded, and we fulfill our responsibility to the interdependent web of life.
---
Upcoming Services
Masks are optional all in-person events.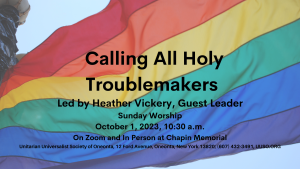 Sunday, October 1, 2023
Calling All Holy Troublemakers
Led by Heather Vickery (She/Her) Guest Leader
As many of you know, our trans and gender-expansive beloveds are under attack and being criminalized in many U.S. states right now. This is so serious that they fit the criteria to be designated as internally displaced people (IDPs) by the United Nations. This isn't the first time fascism has reared its ugly head, and we UUs know how to respond. UUSC has been dedicated to aiding people being targeted by fascism since our founding in 1940. Our faith calls us to make holy trouble for the powers that would deny anyone's full humanity and divinity. Join us, holy troublemakers, now is the time!
Heather Vickery
Coordinator for Congregational Activism
Unitarian Universalist Service Committee
(Upcoming Sunday's Order of Service available after 3:00 p.m. on Fridays)
Upcoming Events
See scroll bar at bottom of Calendar
This Week at UUSO
Please see the UUSO calendar for current events!