Religious Education Classes
Everyone, of any age, is welcome at Sunday services in our sanctuary. Guests are welcome at any time  – bring a friend!
We are currently not meeting at church due to COVID 19. We are offering religious education activities for children, youth and families during this time. Please contact our Office Administrator at uuso@uuso.org for more information. The information below describes how we meet when we are able to be in the church buildings.
UUSO Religious Education Classes are multi-aged and configured based on each year's attendance.  The Nursery, Explorers and Seekers meet in the downstairs Rainbow Rooms at Chapin Memorial.  Mid-Teens and Sr. High youth meet at the nearby Olympia Brown House at 16 Ford Avenue.
 NURSERY CARE is available for children five years old and younger in the lower level at Chapin   Memorial. Children are also always welcome to attend services in the sanctuary.  Chalice Bags (Activity bags) are
The Explorers  (Grades K-3):  The Explorers curriculum rotates between the following yearly themes:  Unitarian Universalist Heritage, Jewish and Christian Heritages, the Interdependent Web of Life, and Religions of the World.  Peace and Social Justice projects are woven through all themes.  Classes may involve stories, games, discussions, art projects, meditation, and snack.  Each group is taught by dedicated teachers who work from favorite Unitarian Universalist curricula. Classes are fun, active, thoughtful and creative.
The Seekers (Grades 4-6): Hogwarts Classes and Popcorn Theology Classes are usually offered every other year.
Popcorn Theology, written by Michelle Kimball, uses popular film clips to s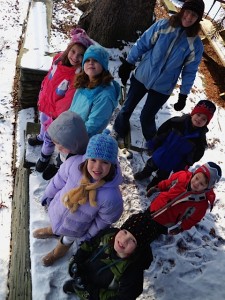 park discussion about the issues that our youth face in their lives.  Topics include making choices based on one's personal values, working toward personal goals, and much more.  Each class includes a brief discussion and related activity then ends with a 'popcorn' session during which participants can call out ideas.
Hogwarts Oneonta is an imaginative curriculum written by UUSO's Lisa Zuend-Misner and Susan Ryder.  Classes use the format of J.K. Rowling's popular Harry Potter series to learn about the magical world in which we all live.  Lessons are based on those that would be offered at Hogwarts  such as Potions, Care of Magical Creatures, Charms, and Defense Against the Dark Arts. Participants explore and discuss Unitarian Universalist Principles through topics such as bullying, anger management, mindfulness, caring for the environment, social justice, and the choices we make.  It is not necessary to have read the J.K. Rowling books to enjoy these classes!
Mid-Teens Youth Group (Grades 7-8) This group meets when there neither OWL nor COAST is being offered. (See below) The Mid-Teens group has the guidance of two adult advisers each time they meet.  Examples of what the group might do involve a regular check-in time, UU curriculum, discussion,  spiritual study or experience, games,  and/or conduct a social action project.  Some Youth opt to participate in the adult worship services or to help lead a service for the church.  UUSO Youth build community together by listening to and supporting each other.
Below is a description of the COAST and OWL classes that are offered approximately every two to three years.

COAST (Coming of Age Spiritual Trek–Grades 7-8) We offer this class when we have enough Youth enrolled.

COAST addresses a youth's passage from one stage to another.  It is open to youth that attend the UUSO as well as to others with permission.  COAST offers participants a chance to recognize and celebrate the passage from childhood toward adulthood.  Participants choose an adult mentor from the congregation.  They participate in regular Sunday classroom sessions and some weekend retreats.  The group also works on fund raising activities to gather funds for their culminating pilgrimage to Boston (and the Headquarters of the UUA).  With the assistance of mentors, classmates, and class advisers, each participant prepares a Belief Statement that will be shared with the congregation during a Coming of Age Celebration Service the following spring.  There is a fee for the program to help cover the costs of materials and events. Scholarships are available.
OWL (Our Whole Lives–Grades 7-9):  We offer this class when we have enough Youth enrolled.
OWL is an award-winning, comprehensive, sexuality curriculum that focuses on self-worth, sexual health, responsibility, justice and inclusivity.  It is for young adolescents with the goal of providing a safe and comfortable environment to learn and explore issues of sexuality.  Grounded in an holistic view of sexuality, Our Whole Lives not only provides facts about anatomy and human development, but also helps participants clarify their values, build interpersonal skills, and understand the spiritual, emotional, and social aspects of sexuality.  OWL contains no religious references or doctrine.  The goal of OWL is not to replace parents as sexuality educators for their adolescents,  but to support parent/adolescent communication.  OWL adult class leaders are certified through a training program offered by the Unitarian Universalist Association.  Please note:  Participation in the OWL class is by parental permission ONLY. All participants must register in the fall.  To preserve the confidentiality and safety of the group, it is the only RE class where guests are not allowed during the year.  Non-UU's may also take this class with special permission.
YRUU  Young Religious Unitarian Universalists is most often for those in Grades 9-12. Occasionally we host a Jr/Sr YRUU for those in grades 7-12. YRUU is part of the national youth organization of the Unitarian Universalist Association.  Class members decide the course of their year together along with their adult advisors and DRE. Youth can serve on UUSO committees, work in the Nursery, or offer teachers assistance in RE classrooms.  Older YRUU teens may choose to attend Unitarian Universalist Youth Conferences that are offered throughout the district.  UUSO Youth often find that living their values of inclusivity and social justice at their respective high schools can lead to needing the extra support of their UUSO Youth group. Their group provides a safe and nurturing space to truly be themselves.
Please contact the Office Administrator at UUSO@uuso.orgm if you have any questions.
Save
Save
Save
Save
Save