Sunday Worship Service
During COVID times, the congregation gathers for multi-platform worship both on Zoom and in person. Information on accessing Zoom is on the home page of the website. See COVID safety precautions on the home page. 
Worship services are regularly held at the Unitarian Universalist Society of Oneonta on Sunday mornings at 10:30 a.m. in the Chapin Memorial Sanctuary, located at 12 Ford Avenue in Oneonta, New York. Additional services may occur at different times for holidays and special occasions.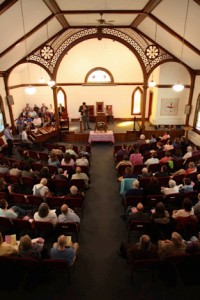 There is no set Unitarian Universalist liturgy. At UUSO, after the chimes ring, there is a musical prelude, a time to quiet down and enter the spirit of worship. We welcome the congregation, offer invitation to upcoming events, and greet one another. The chalice, symbol of Unitarian Universalism, is lit. We sing hymns, listen to music, meditate or pray,and share our Joys and Sorrows. Central to our worship service is the sermon or reflection. This piece, often delivered by our minister or by members of our congregation or the wider community, is an invitation to explore a question of deeper meaning, or a challenge to truly live our lives by our principles, making the world better for all its people. An offering to support the work of the congregation and local organizations is collected. Every month, a local organization in agreement with the Unitarian Universalist principles, is chosen to receive one half of the offering. We close each service with a hymn, benediction, and postlude.
After the worship service, the congregation gathers for coffee and conversation in the sanctuary. Childcare is always available during worship services. During the regular church year, September through May, visiting children may also join our Religious Education classes where they can participate in activities with their age group. Children are always welcome to remain in the sanctuary with their families for the service. There are activity 'Chalice Bags' available in the Sanctuary foyer for those who find it easier to sit still when keeping their hands busy.
The Unitarian Universalist Society is a Welcoming Congregation, accepting and affirming the lives of gay, lesbian, bisexual, and transgender people in our congregation. All me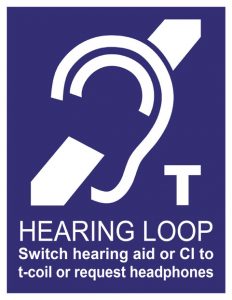 mbers of the human family are truly welcome here. Our sanctuary is accessible with a wide ramp and double doors to aid those with mobility issues. Handicap parking is usually available right in front of our entrance on the street.
Ushers and volunteers are available to graciously assist anyone in need of an extra hand. Assistive audio is available through Hearing Loop. Service animals are always welcome in our sanctuary. Therapy animals are also permitted, with prior staff approval.