Worship Schedule
All Sunday services begin at 10:30 a.m. The worship calendar is subject to change on short notice.
All Sunday services are offered in a multi-platform format, both in person and on Zoom. Please check the Worship Schedule and the weekly newsletter for more updates about our transition back to in-person worship. If the COVID-19 conditions worsen, we may have to return to fully online worship services.
---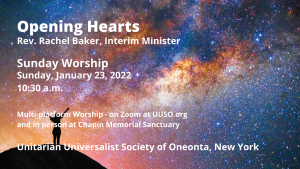 Sunday, January 23, 2022: Opening Hearts
Rev. Rachel Baker, Interim Minister
As a part of the worship series exploring the Unitarian Universalist principles, we will focus on the third principle, "acceptance of one another and encouragement to spiritual growth in our congregations."
---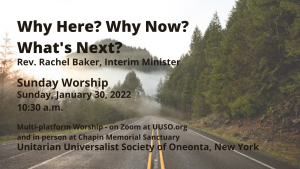 Sunday, January 30, 2022: Why Here? Why Now? What's Next?
Rev. Rachel Baker, Interim Minister
Over the past two years UUSO has shared stories of who the congregation has been in the distant and near past. We have come to the time in the Interim Ministry to explore why we are here and the vision the congregation holds for the future.
---
Sunday, February 6, 2022: TBD
Sallie Han, Guest Worship Leader