Worship Schedule
All Sunday services begin at 10:30 a.m. on Zoom. The worship calendar may change on short notice.
This summer UUSO is participating in a summer worship swap with ministers and congregations across the country. On the Sundays that the Rev. Rachel Baker is not leading worship, worship will be pre-recorded. Join us for summer worship at 10:30 am every Sunday.
---
Sunday, June 20, 2021: Summer Solstice 2021 and the Allegory of the Cave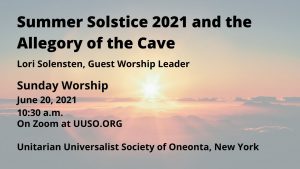 Led by Lori Solensten, Guest Worship Leader
Music offered by Michael Frye-Hunt, Worship Musician
Assisted by Rosemary Summers and Cathi Wiltsey, Worship Associates
Lori Solensten will examine a variety of spiritual traditions today in the Light of the Coronavirus and our past year of isolation. The wheel of the year continues to turn and we find ourselves once again on this day of great light. Are we ready to emerge? Are our inner and outer eyes ready for the light? How do we perceive this special time of year and how can we use it for the highest good?
---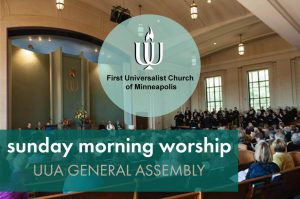 Sunday, June 27, 2021: Sunday Morning Worship at the General Assembly
Assisted by Justine Roefs, Worship Associate
All are welcome to watch the worship service of the 2021 General Assembly of the UUA. This is one of the highlights of the annual meeting of the congregations.
The service is offered by First Universalist of Minneapolis. It will be streamed at our regular 10:30 a.m Sunday Worship, or you may watch the service on the UUA website at 12:00 noon.
---
Sunday, July 4, 2021: Swap Sunday Worship
---
Sunday, July 11, 2021: Beyond Ourselves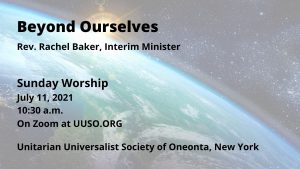 Led by Rev. Rachel Baker, Interim Minister
Unitarian Universalist tradition draws from many sources, the first of which is the direct experience of that transcending mystery and wonder, affirmed in all cultures, which moves us to a renewal of the spirit and an openness to the forces that create and uphold life. Though transcendent experiences often feel unique, they are quite common. These moments tie us inextricably to each other.
---
Sunday, July 18, 2021: Being at Home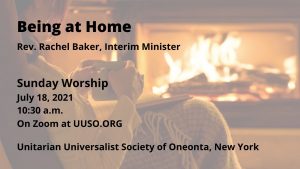 Led by Rev. Rachel Baker, Interim Minister
Music offered by Tim Horne, Music Director
Reflecting back on the past year and a half primarily at home and restricted from our regular activities, what has this time taught us about ourselves, and who we hope to be.
---
Sunday, July 25, 2021: Swap Sunday Worship