Worship Schedule
All Sunday services begin at 10:30 a.m. The worship calendar is subject to change on short notice.
All Sunday services are offered in a multi-platform format, both in person and on Zoom. Please check the Worship Schedule and the weekly newsletter for more updates about our transition back to in-person worship. If the COVID-19 conditions worsen, we may have to return to fully online worship services.
---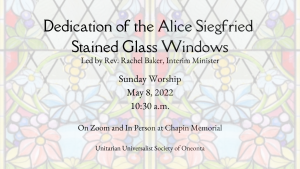 Sunday, May 22, 2022: Dedication of the Alice Siegfried Stained Glass Windows
Led by Rev. Rachel Baker, Interim Minister
Long-time beloved member, Alice Siegfried, always hoped to see the plain amber windows in the sanctuary of the building at 12 Ford Avenue replaced with stained glass with a chalice, one of the symbols of Unitarian Universalism. However, this was not accomplished during her lifetime. Her family generously decided to fund new stained-glass windows designed and built in her memory. This morning we will dedicate and celebrate these new windows. The new windows were designed and fabricated by Fabio Pizzol of Italy and Niantic, Connecticut. The frames for the new windows were custom made by Adam Scudder of Maryland, New York.
---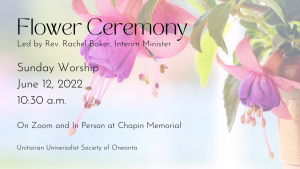 Sunday, June 12, 2022: Flower Ceremony
Led by Rev. Rachel Baker, Interim Minister
In June, the congregation celebrates the arrival of summer with a Flower Communion. This ritual celebrates beauty, human uniqueness, diversity, and community. Originally created in 1923 by Unitarian minister Norbert Capek of Prague, Czechoslovakia, the Flower Ceremony was introduced to the United States by Rev. Maya Capek, Norbert's widow. In this ceremony, everyone in the congregation brings a flower. Each person places a flower on the altar or in a shared vase. The congregation and minister bless the flowers, and they're redistributed. Each person brings home a different flower than the one they brought.