Environmental Justice at UUSO
---
Green Sanctuary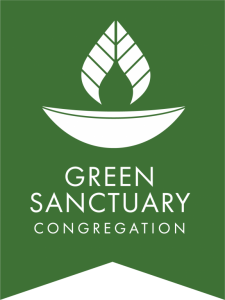 We need your help in order to ensure that we continue to foster an active congregational culture around stewardship of the planet and reduction of climate change and its devastating impacts. Please click here to fill out the Green Sanctuary survey and express your thoughts on which campaigns you think our congregation should engage in, or provide your own ideas for campaigns. Each member of a family unit is welcome to fill out their own survey, or your family may wish to do one collectively. We definitely want children and youth to have the opportunity to include their voices in the survey and be involved in the campaigns. 
The Green Sanctuary is a program of the Unitarian Universalist Association (UUA) with the purpose of organizing a congregation-wide effort to carry out campaigns toward mitigating climate change, promoting resilience and adaptation to the effects of climate change, and collaborating with marginalized groups in common environmental justice projects. More information about the UUA's Green Sanctuary Program can be found here.
The UUSO is enrolled in this program and has taken the preliminary steps toward being accredited by the UUA as a Green Sanctuary. We are part of a cohort of 10+ UU congregations who are also striving to be Green Sanctuaries. Our core task force of five people is operating under the umbrella of the Social Action Team, and we envision that every member and friend has the opportunity for some involvement in our campaigns.
For more information about the Green Sanctuary Program at UUSO, please contact the Social Action Team at socialaction@uuso.org.