Religious Exploration
---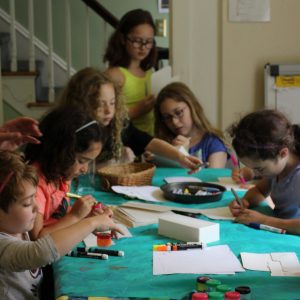 The Nursery is a safe and fun place for our youngest members and visitors. We maintain a staff of trained and consistent sitters. Babies and Children are lovingly cared for each Sunday morning from 10:15 to noon. Our youngest participants will have age-appropriate activities, art projects, songs, and snack while forming their first community at UUSO.
Religious Exploration begins at Kindergarten and lasts through 12th grade. In RE classes, children and youth can be part of a supportive, questioning, open-minded, justice-seeking community of friends that can prop them up in ways which are not found anywhere else in their lives. The curricula are popular, dynamic, and fun. RE participants are encouraged to come to church as often as possible. The more they attend, the more they will benefit from the RE Program! All religious education programs end at noon. Whether coming to RE for the first time, once every so often, or for every possible class, everyone is always welcome!
Where do I go on a Sunday Morning?  All children join their families for the beginning of the worship services. After the "Time For All Ages," the congregation will sing the children out and RE classes will begin. We occasionally have multigenerational worship service for the entire congregation. The ushers will know when the worship service is multigenerational.
There are activity "Chalice Bags" at the Visitor Welcome table for those who are able to have a fuller experience if they keep their hands busy.  Look for a "Nursery Chalice" bag if your child is under three years old. People of all ages have been known to use Chalice Bags!
Save
Save
Save