OUR VISION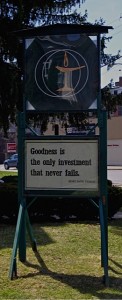 BE A CHURCH FOR ALL GENERATIONS. BUILD A WORLD WHERE ALL BEINGS MATTER.
At our congregational meeting on May 4, 2014, we approved a long range plan to help us reach our vision of being a religious home for all generations and a community that works for a world where all beings matter. Some of the goals will be easy to accomplish. Others will take some years to reach. Some goals may be open-ended, an ongoing call for us to do our shared ministry both within our walls and beyond. Our goals for our long-range plan are to:
• Expand outreach ministries to members who are unable attend services and church events.
• Provide for the expansion and growth of our Religious Education program.
• Enlarge physical space.
• Build a stronger, generationally sustainable UUSO.
• Reach out to the under-50 group.
• Expand Worship opportunities.
• Strengthen support of our LGBTQ community.
• Create a Campus Ministry Program.
• Work toward becoming a Green Sanctuary.
• Help solve the affordable housing problem in the Oneonta Community.
Our hope is that these goals will inspire our congregation to grow in spirit and in unity as we work to create the beloved community. We look forward to the evolution, the challenge, and the strength these goals will provide our congregation now and into the future.