Office Administrator, part time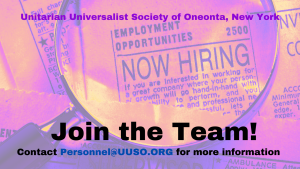 The Unitarian Universalist Society of Oneonta seeks a team-oriented individual with strong interpersonal communication skills, attention to detail, and the ability to manage multiple projects for the position of Office Administrator.
The Office Administrator manages all facilities and office procedures, maintains office equipment, coordinates internal and external communications, and tracks membership data. The Office Administrator also completes additional administrative requests, as directed by the Minister, in consultation with the Treasurer, UUSO staff, and leadership. See full job description here.
The position is 15 hours per week, plus an additional 20 hours throughout the year for specific projects. Salary is based on the Unitarian Universalist Association's suggested guidelines for central New York and the candidate's experience.
An ideal candidate will have a minimum three years of office administration or comparable experience; communication skills for interpersonal, community-based, and internet presentation; proficiency in or ability to learn and use office equipment and software; and basic understanding of or willingness to learn photo editing, graphic design, and other software and applications. The full job description with essential functions and core competencies is available here.
Because it is a best practice in congregations not to hire members or applicants with strong ties to the congregation, the search team will prioritize candidates from outside of UUSO.
If you are interested in applying for the position, please email a PDF of your cover letter and resume to Personnel@UUSO.ORG.
We look forward to hearing from you.
Adrienne Martini and Rev. Rachel Baker, Office Administrator Search Team