Next Sunday's RE Classes
Due to the COVID-19 pandemic, all children ages five and above are required to wear masks at all times while inside the church buildings.
The Nursery will be open on all Sunday mornings from 10:15 to 12:15 for babies and children ages one to five. It is located in the lower level Rainbow Rooms at Chapin Memorial. Please retrieve your child from the nursery after the service.
Children of all ages are always welcome to attend the service in the sanctuary. Chalice Activity Bags are available in the foyer for anyone of any age who is better able to participate in a Sunday service while keeping their hands busy. Look for special nursery bags for those under the age of three.
---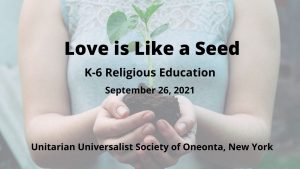 K-6: Love is Like a Seed
This session introduces love as an unseen, guiding force unfolding in the universe, and introduces the Sources of our Unitarian Universalist faith, with an emphasis on love. Participants will learn chalice-lighting words and opening and closing songs to use in each session, learn about the Sources of our Unitarian Universalist beliefs, connect a story about the beginnings of the universe with our higher calling to love, and portray love unfolding in the universe by making a seed art project.
---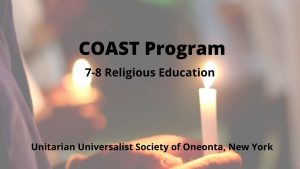 7-8: COAST Program
COAST (Coming of Age Spiritual Trek) addresses a youth's passage from one stage to another. It offers participants a chance to recognize and celebrate the passage from childhood toward adulthood. Participants choose an adult mentor from the congregation. They participate in regular Sunday classroom sessions and some weekend retreats. The group also works on fund raising activities to gather funds for their culminating pilgrimage to Boston (and the Headquarters of the UUA).  With the assistance of mentors, classmates, and class advisers, each participant prepares a Belief Statement that will be shared with the congregation during a Coming of Age Celebration Service the following spring.
---
       Staying Connected Between Sundays:
Here are some family resources:
Our own MARA KERN LIBRARY in the front room of the Olympia Brown House. This free library has a great assortment of books, CD's and DVD's.
https://www.uuworld.org/hashtag/parentingblog is written by Michelle Richards. There are insightful articles on many aspects of UU parenting. Michelle is also author of a wonderful book: Tending the Flame: The Art of Unitarian Universalist Parenting.
Parents as Spiritual Guides is a 6 lesson workshop for parents and caregivers. You can have access to all of the lessons in a pdf at http://www.uua.org/sites/live-new.uua.org/files/documents/lfd/tapestry/parents_spiritual_guides.pdf
Call and Response: Journeys in UU Lifespan Faith Development, can be found at http://callandresponse.blogs.uua.org/ This site addresses current issues of interest to UU families and includes a way to communicate with other UU parents by posting and reading comments.
Creating Young Justice Seekers: Ideas and projects for family experiences creating social justice can be found at: https://www.uua.org/families/justice
The Family Pages pullout section of the monthly UU World Magazine contains activities around a topic for families to engage in together. Many of the themes and activities are part of our religious education program during the church year. They are interesting and fun! A paper version of UU World Magazine is sent to all members of UUSO. It is available online at https://www.uua.org/families/uu-world-family-pages
You can find stories and other resources at Family Quest: Church of the Larger Fellowship at http://www.questformeaning.org/programs/family-quest/
For Youth:
BLUEBOAT: This site offers a way for teens to stay in touch with each other and with what's happening in the UUA (the Unitarian Universalists Association) regarding youth and young adult ministry. They also are on Facebook. http://blueboat.blogs.uua.org/youth/
YAYA: is the site of the Youth and Young Adult Ministries Office at the UUA and has the goal of supporting youth working for the future of our faith. https://twitter.com/YAYAUUA
CENTRAL EAST REGION UU YOUTH MINISTRY at https://www.uua.org/central-east/youth This is the site to keep watching for postings of future Cons as well as other youth events in our district. You can also contact them if you would like more information about UU Youth leadership opportunities.
Save
Save
Save
Save
Save
Save
Save
Save
Save
Save
Save
Save
Save
Save
Save
Save
Save
Save
Save
Save
Save